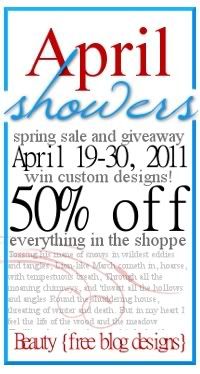 Hannah over at
Beauty {free blog designs}
is having a spring sale and giveaway at her shoppe!
Everything in her shoppe is 50% off plus she's giving away two packages – the Photographer's Special (worth $60 – has website, blog, logo, watermark) and the Designer's Collection (worth $20 – is completely custom with all the trimmings).
Absolutely amazing. If you haven't seen her work you need to go over to her blog. She creates a very professional yet unique feel to each of her designs.
Now onto the questions...
1. Do you like being outdoors or indoors?
Depends. =D I like both.

2. Hot or cold weather?
Can I say in the middle? Because I don't like it extreme either way, I enjoy variety. =)

3. Favorite color?
Blue.

4. Favorite song, and why?
Oh, this changes constantly. Right now it is Blessings by Laura Story.

5. One word that describes you.
One?! ohhhh... perfectionist. (that can be a good thing and a very bad one too)

6. One song that describes you.
I honestly have no idea. =P

7. What's your biggest goal in life?

8. Sweet or sour foods?
Sweet.

9. Favorite movie, and why?
Um, I don't really have a favorite...

10. Greatest accomplishment so far?
oh, I don't know...passing German I. =P Now if I could just pass German II...

Have a wonderful Easter weekend!

Love in Christ,