If then you have been raised with Christ, seek the things that are above, where Christ is, seated at the right hand of God. Set your minds on things that are above, not on things that are on earth. For you have died, and your life is hidden with Christ in God. When Christ who is your life appears, then you also will appear with him in glory.

Put to death

therefore what is earthly in you: sexual immorality, impurity, passion, evil desire, and covetousness, which is idolatry. On account of these the wrath of God is coming. In these you too once walked, when you were living in them. But now you must put them all away: anger, wrath, malice, slander, and obscene talk from your mouth. Do not lie to one another, seeing that you have put off the old self with its practices and have put on the new self, which is being renewed in knowledge after the image of its creator. Here there is not Greek and Jew, circumcised and uncircumcised, barbarian, Scythian, slave, free; but Christ is all, and in all.

Put on

then, as God's chosen ones, holy and beloved, compassionate hearts, kindness, humility, meekness, and patience, bearing with one another and, if one has a complaint against another, forgiving each other; as the Lord has forgiven you, so you also must forgive. And above all these put on love, which binds everything together in perfect harmony. And let the peace of Christ rule in your hearts, to which indeed you were called in one body. And be thankful. Let the word of Christ dwell in you richly, teaching and admonishing one another in all wisdom, singing psalms and hymns and spiritual songs, with thankfulness in your hearts to God. And whatever you do, in word or deed, do everything in the name of the Lord Jesus, giving thanks to God the Father through him. -

Colossians 3:1-17
Sanctification: Put off. Renew. Put on.
I often overlook one of the most crucial aspects of sanctification--even though I know what it is. How easy it is to focus on externals and forget that it is the renewing of the mind and learning to re-think that changes my actions more than simply behavior modification.
We cannot effectively pursue holiness without the Word of God stored up in our minds where it can be used by the Holy Spirit to transform us. - Jerry Bridges, The Discipline of Grace, 180
If anything is to be changed in my life, I must start to think in a new way. The only way to truly get rid of the old man is to replace it with something new, by speaking truth in my heart instead of the lies of the world. (Psalm 15:2) For if I don't want to sin against my holy Father, I must hide His Word in my heart. (Psalm 119:11)
"Don't believe everything you think. You cannot be trusted to tell yourself the truth. Stay in The Word." - Jerry Bridges, The Great Exchange
I know all this, so now is time to put it into action. My plan this year is to memorize all of
I John--just two verses a week!
You can expect weekly
Monday Memorization
posts with the truth of what I've hidden in my heart.
If you need encouragement to memorize Truth this new year, check out these two links that I've found helpful: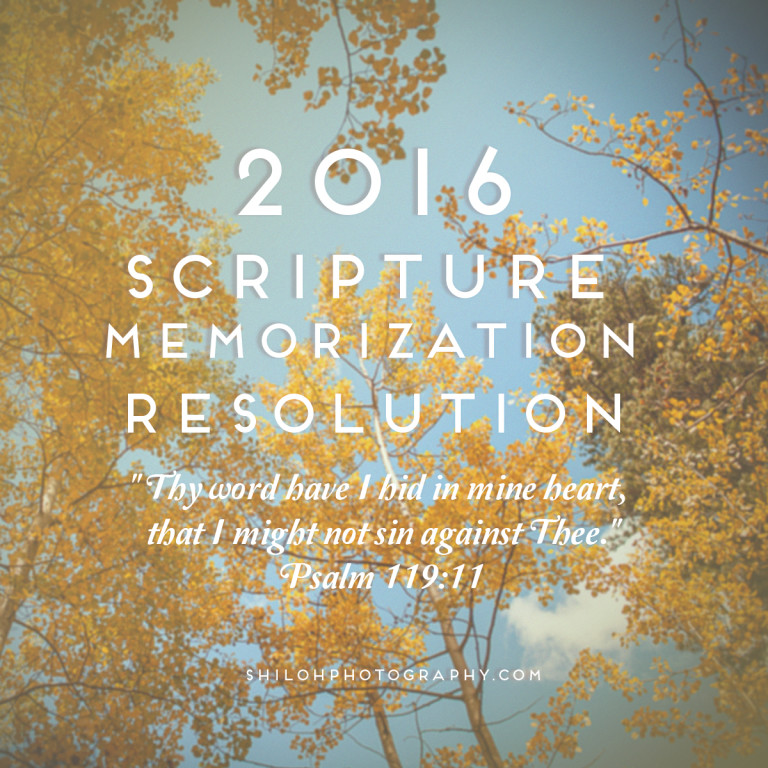 <-- Need some inspiration? Sign up for Rachel's 2016 Scripture Memorization Resolution and receive weekly emails with words of encouragement and helpful tips. Go
read her post
and then
sign up
!
<-- A great way to memorize if you're a kinesthetic or read/write learner! I first started to use ScriptureTyper when I did Ann Voskamp's Romans memorization challenge two years ago. I'm on the computer a lot for school and it is a good study break to go type my verses for the week.