Open eyes, close, bury in pillow--then remember
great triumphs.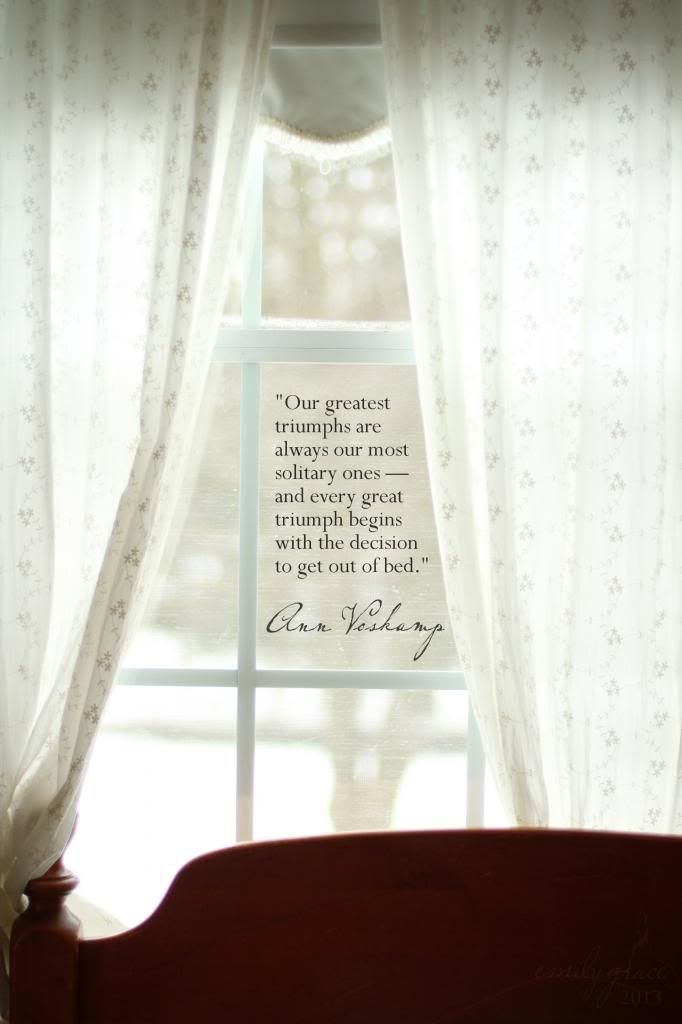 My feet dangle over the bed and I remember.
I remember back to what seems like another life when my toes would touch the worn wooden floors and I first learned this. I remember back two years ago when carpet would meet my feet and I daily lived this out. I remember back to last year when my feet would hit the cold tile and I struggled to stand on this.
Didn't I learn this months ago? When life was a rushing goodbye of packing and cleaning I learned this. Why now, is it so hard to live this?
Because I thought I had this down, I fail more easily. When I think that I have learned something, the temptation is for me to attempt to do it with my own strength and no longer rely on God.
Therefore let anyone who thinks that he stands take heed lest he fall. No temptation has overtaken you that is not common to man. God is faithful, and he will not let you be tempted beyond your ability, but with the temptation he will also provide the way of escape, that you may be able to endure it. - I Corinthians 10:12-13
Step forward even if you think you're falling. If you stop the forward motion you will fall. This forward step is a thanksgiving step. A praise, adoration, of the One who daily bears me up.
And so I count on, each thanksgiving step drawing me nearer, every foot closer to the glory of God...
1700: driving to campus in the bright rays of the new day
1702: called to remember (Deut 6; II Peter 1)
1703: making correct guesses on exams! and all is grace...
The first step from behind the curtain onto the stage is the hardest one. You just have to do it. Close eyes, deep breath in and out, open eyes, look up, then step forward into the light...
Linking up:
Grace & Truth